What is a Hybrid Event? – A Technical Perspective
For corporates, businesses, government organizations, or educational institutions, events are the most crucial and important part of day-to-day activities. For internal or external communications purposes, hosting events bring so much value to the stakeholders whether they are physical, virtual, or hybrid events.
What is a Hybrid Event?
Now, most of the events are virtual, and if you are combing a physical event with virtual components as in virtual speakers or audience, it is simply a hybrid event. Let's explore more on the technical perspective towards the hybrid events.
Physical, In-person Events
Before we talk about Hybrid Events, let's recall how events used to be in the past especially before Covid-19. Marketing Events, Corporate Events, Educational Conferences, Medical Symposium, Product Launch, Science Fair, the list goes on and they all want as many people as possible to show up at their events. It was a great opportunity to invite a renowned speaker from abroad to give a speech at the event which is now one of the most difficult tasks to do.

Engage the audience with activities such as Live Q&A sessions, Networking sessions, Live Polling or Live Quiz sessions, and so on. The audience would use a microphone or sometimes they are provided with pen and paper to write the question and pass it to the organizer. Event organizers would use physical voting pads for live polling sessions.
Virtual Events
A virtual event is when all the speakers, presenters, moderators, EMCEEs, and also the audience are virtual, connecting from their homes or offices through their own devices. Usually, these events are generally called webinars, webcasts, Live Streams, Virtual Meetings, etc. Applications such as Zoom, Webex, Bluejeans are excellent for both virtual and hybrid events. Check out our event technology services to know more about our expertise in this area.
There are hundreds of software or applications for such virtual event or meeting purposes and most of them come with all sorts of interactivities and engagement features.
The audience is able to simply type in the question that they want to ask, or chat with other attendees. Live Polling is also as simple as clicking or pressing a few buttons on the screen.
Hybrid Events
So it seems like virtual events are all you need for your events and why would we still host a hybrid event? There are unlimited reasons to do a hybrid event such as
To have a professional Audiovisual Setup
Minimize a physical event's in-person attendees
Maximize virtual attendees of a physical event
Invite Speakers from Abroad
So as you can see, while virtual events seem to solve quite a lot of problems, the need for hybrid events is also crucial for various reasons. Similarly, hybrid events also need virtual meeting tools together with a nicely arranged on-site audio-visual equipment setup.
Let's go through a setup of a hybrid event with an example.
A Corporate Townhall as a Hybrid Event
Let's say you are hosting a corporate townhall event in Singapore with a few speakers such as the Country Director, Sales Director, HR Director, etc, and a minimal in-person audience. A large majority of the audience in Singapore or across other global offices will join the townhall through a virtual meeting platform. The global CEO will give a speech and a few other directors will join the live Q&A session as panelists together with the local in-person directors.
Therefore the parties involved are
The Local In-Person Directors (Speakers)
The Remote or Virtual Directors (Remote Speakers)
The Local Audience (In-person Attendees)
The Virtual Audience (Remote Attendees)
We will just need to plan for the correct and professional on-site audio-visuals and use the suitable video communication tool for this townhall.
Live Video Communication Platform or Tool for a Hybrid Event
A live video communication platform or tool with a suitable authentication feature is crucial as this is a corporate event and you don't want any random person to tune into your townhall event. Keep in mind the requirement for the Live Q&A, Polling, or Survey mechanism so you can engage the attendees and measure how satisfied they are with the setup. It is also best if you can control or filter the incoming questions from the attendees before the directors or all other attendees see them.
The remote speakers should be able to connect to the platform without any issues. The key is to do tests and rehearsals to make sure there is no technical problem.
The platform should also be able to record the whole event as well as the attendance accurately so you know who showed up and digest the analytics after the event.
On-Site Audio-Visual Arrangements for a Hybrid Event
Once you have identified the video communication platform that meets your requirement, next you'll need to arrange the on-site audio-visuals such as Cameras, Microphones, Speakers, Screens, and so on.
For hybrid events like this, a powerful and efficient graphic switcher is extremely important. You may need to carefully select what you show on the screens locally in Singapore, and for attendees joining via the internet.
Especially during the Q&A session, you will need to show the remote presenters on the screen together with the local directors for a fruitful Q&A discussion. Look out for all kinds of video and audio disturbance during these sessions and be ready to actively or pro-actively smooth out the arisen technical issues.
Similarly, also for the on-site arrangements, the key is to do the rehearsals at event location (function room, meeting room etc) and make sure there is no oversights.
Take a look at the visual illustration of a simplified hybrid event setup for the townhall we discussed above.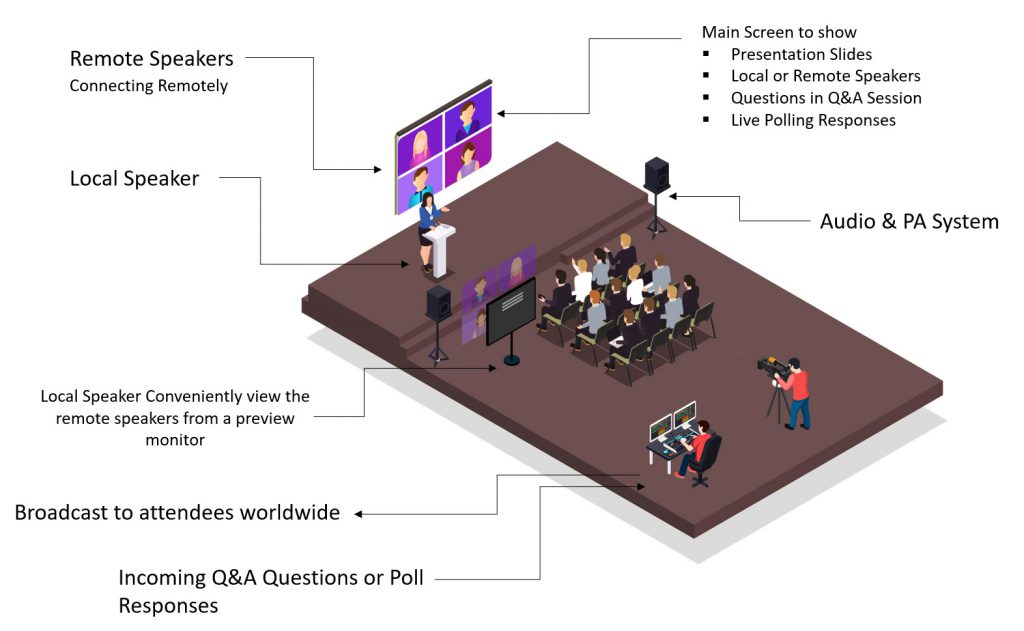 As shown, for a hybrid event setup, there is an on-site live video production team with Video Camera(s), Audio System (Speakers and Microphones), Vision Mixer and Switcher, Screen and Projectors, Monitors, cables, and accessories.
The remote presenters are shown on screen as required, and the remote presenters are able to see the on-site presenters and audience through the on-site video camera. (Multi-camera setup is best if a dedicated camera is needed to just show the audience's front view)
The on-site presenters simply view the remote directors through the preview monitor that is usually placed near to the stage as shown in the illustration.
The main screen will show different objects based on the current agenda of the event such as on-site presenter's presentation slides, remote presenter speech or slides, remote presenters only, live questions, live polling questions, etc.
The setup is actually overly simplified and yet the technical details of each component's arrangement could be endless to describe here in this article.
To conclude, as we have discussed in this article, there are quite a number of critical points to keep in mind when you are organizing a hybrid event. You will not need to dive deep into the detailed setups if you are an event owner or organizer but it should be fun to explore the technical side of it.
Check out our live video production services and live video communication solutions to know more about the hybrid events and what are the available services around it.
---
Related Tags: