Video Conferencing Services
Let us help you with all your meeting needs! Our experts are ready to plan and execute a flawless event from start to finish. Whether you need simple or complex video conferencing services, we have the solution for you!
---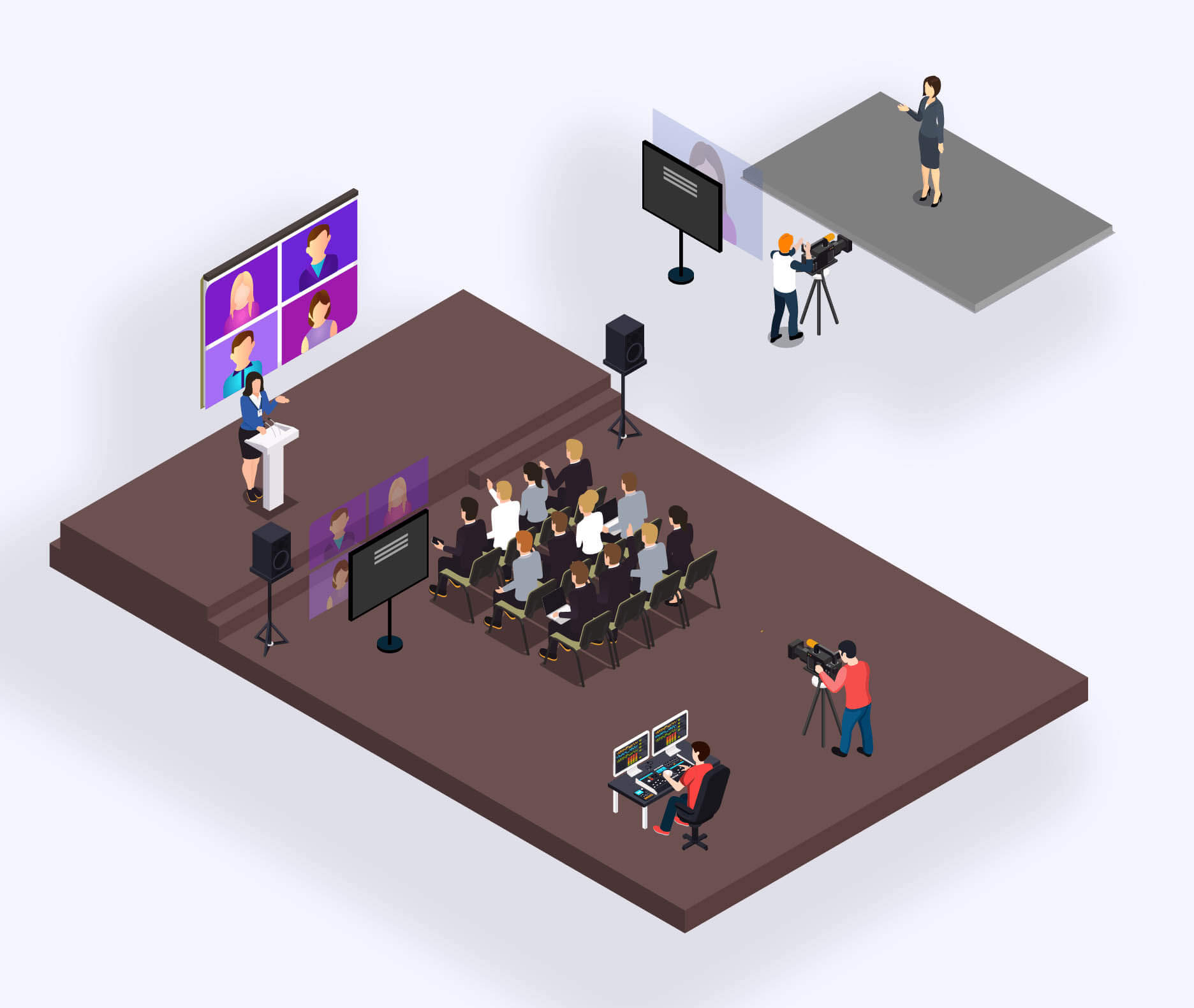 On-site Video Conferencing Services
On-site Video Conferencing Setup is an ad-hoc service providing our audio and visual equipment at your event or meeting venue to connect with remote parties via video conferencing platforms. Our on-site setup service is perfect for those who want a complete solution that requires little or no setup time.
If you are hosting an event with physical presenters at a venue and remote presenters joining via video conference, it is a daunting task to ensure all the technicalities and audio-visual setups are working well. With our decades of experience in this area, we provide a firm assurance of finest on-site video conferencing setup for your event.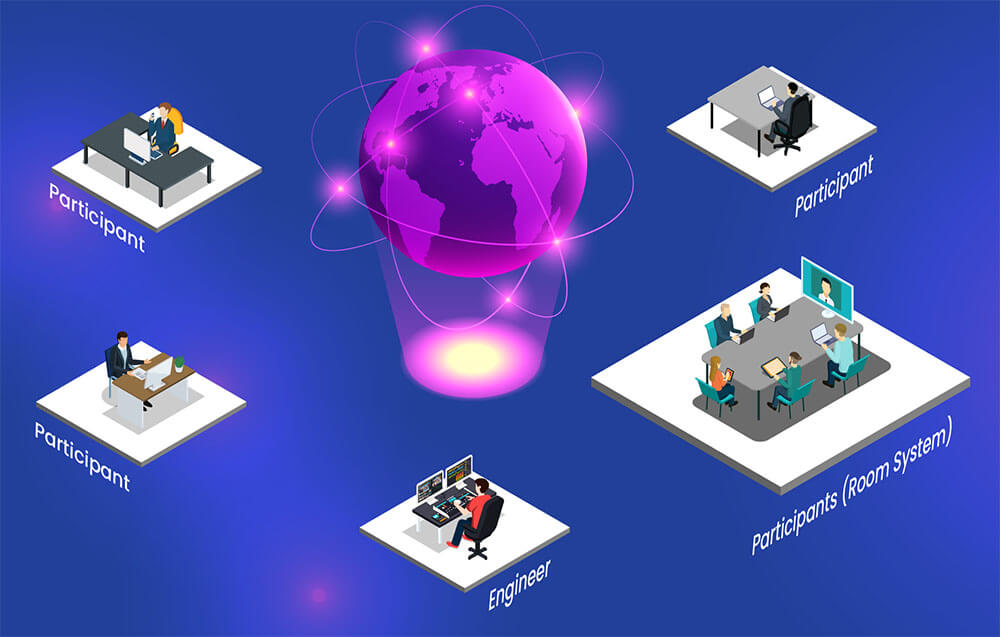 Virtual Video Conferencing Services
If you are looking for a professional way to communicate with your colleagues, clients or potential customers without the hassle of traveling or being in the same room, then we have the perfect solutions and services for you! Our Virtual Video Conferencing Services are aimed to help your 100% virtual meetings that have no room for any technical glitches. We are providing our professional knowledge and experiences to guide you through each step and ensuring that your most important meeting goes smoothly and professionally.
We provide the right conferencing tool to meet your requirements, pre-event testings and rehearsals, in-meeting technical assistance, recordings, reports & analytics and more.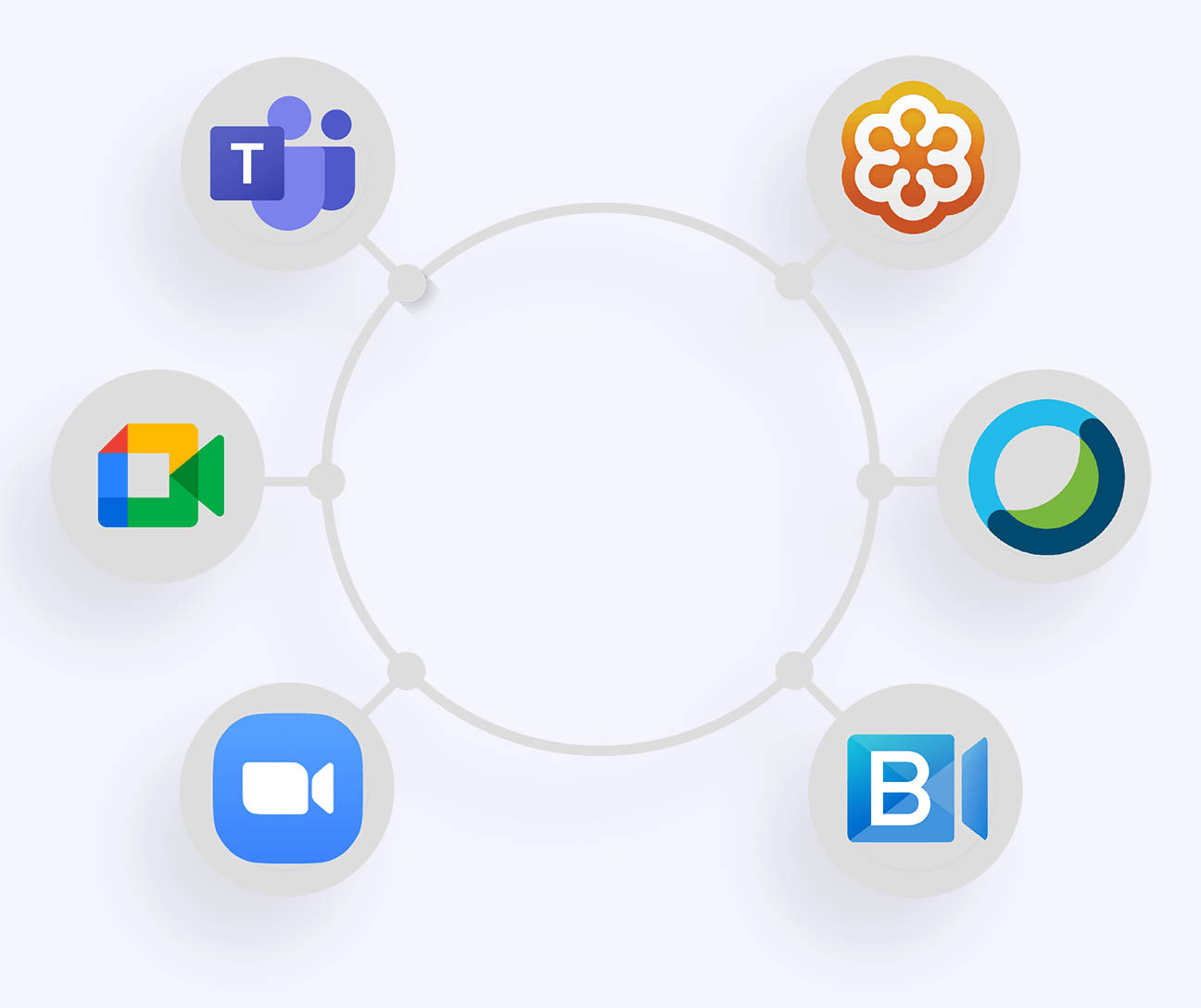 Video Conferencing Tools and Apps for your Event or Meeting
Our company offers a variety of tools for use in meetings and events. Whether you need the simplest or the most complex service, we have a solution that is perfect for you. Zoom, Webex, Bluejeans, Microsoft Teams, Vidyo, Polycom, Cisco, cloud-based, hardware-based.. the list of available tools are virtually unlimited. We will provide the best fitting web conferencing tool for your event or meeting.
Moreover, our audience engagement tools can be used along with the popular apps giving much more flexibility and smoother participant experience.
Video Conferencing Services
On-Site Ad-hoc Setup Anywhere
Video Conferencing Setup for your event at a hotel function room, auditorium, meeting room or even an outdoor area.
Flexible Solutions
From a small requirement to a broad and complex need, we have got you covered.
Engagement Tools Integration
Bring in your favourite tools with ease and make the audience happy.
Professional Audio-Visuals
Never worry about AV technical issues anymore and get ready to sail smooth through your event.
Connect to Web-based or Room Conferencing Systems
Connect to video conferencing apps or permenant room systems hassle-free.
In-meeting Technical Assistance
We are there to expect the unexpected and to solve any technical issues that arose during the meeting.
Meeting Recording
Keep a professionally recorded meeting for your archive and future reference.
Recce and Rehearsals
We ensure all the pieces are in place before everything goes live.
Frequently Asked Questions
Managed Video Conferencing Service is for any video conferencing requirement that needs professional equipment or professional technical assistance, typically for an event, important meetings, court hearing, remote presentations, etc.
Definitely! We can support on-site setup at your conference, as well as remote presenter testings and assistance, so remote presenters can join the conference and deliver their talks just like they are at the venue.
For virtual meetings, we provide full technical support such as presenter connection checking, in-meeting technical assistance (making sure there is no audio or video disturbance during the meeting), recording and report of the meeting, and integration with our audience engagement tools if needed.
We provide full equipment and software required for on-site or virtual meetings. The participants or remote presenters who do not need a professional setup will need to use their own devices to connect.
No. We provide an ad-hoc video conference system setup at event venues, office function rooms, or literally anywhere that has an internet connection. We do not provide permanent system installation.
Pricing is based on the actual requirement i.e, equipment, manpower, event hours, etc. Please get in touch with us to consult with our solutions expert and get an accurate quote.
One-stop Service Provider
Web Development
Create excellent event microsites or landing pages.
Artwork Design
Produce required artworks for your event conveniently
Translation, Transcription
Reach audience from all markets across geographies.
Printing
Invitation cards, transcription booklets, product catalogue for your events.
Green screen Studio
A perfect controlled environment for your virtual event.
Remote Recording
Create professional video modules of remote speakers virtually.
Stage Production
Backdrop, Banners, Stage, Projectors, Lighting.. all in one place.
Ready to Get Started?
Talk to our solutions expert right now to get started!
+65 8903 5635